NVOCC
ASEAN Logistics
Project Cargo
Domestic Transportation
Export/Import Management ・Logistics Optimization Support
Utilizing the strength of shippling liner's affiliate backgroung, we will support you in all aspects of QDC management including selection of shipping liners, adjustment of schedules and delivery times, and provision of competitive costs.

It is possible to provide attractive Ocean Freight through MOL group global purchasing.

We recommend to use our own LCL consolidation service, in the lane from Tokyo / Yokohama to Ho Chi Minh or from Tokyo / Yokohama to Hai Phong due to better quality service with competitive cost.
Vietnam-Thailand Cross Border Service
We are developing "Cross Border Consolidation Service (CBT LTL)" for cross border transportation using land transportation between northern Vietnam, Laos and Thailand.
Utilizing a maintained route from the central Vietnam area called the ASEAN East-West Corridor toward the west ,with a total distance of 1600km from northern Vietnam to various parts of Thailand. The epoc making service prevails not only full charter truck service (FTL) but also less-than-chartered-truck service (LTL).

The service realizes quick and low-cost international integrated transportation.

* As an effect of the new service, it brings average lead time of 3-4 days, which is significantly less than the number of days transported by sea freight (around 10 days) and achieve half of the cost air freight cost.
Experienced staff will respond appropriately to projects of various scales, from one facility to a factory unit.
Project Cargo Transportation, involving the transportation of heavy and outsized components/equipment, requires strict time management and various related work coordination.
MOL Logistics has accumulated experience in dealing with project cargo transportation, and we fully meet Japanese enterprises requirements aiming at transferring equipment overseas or carrying out plant and infrastructure construction in emerging countries.
Workflow
Preview
Suggestion
Packing
Loading
Transport
Unloading
Installment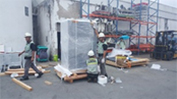 Processing results in the past
| | | |
| --- | --- | --- |
| Work contents | Packing specifications | Transportation equipment |
| Crane work | Crate | Trailer |
| Down the ground | Box | Forklift |
| | Skid | |
| | Barrier | |
| | Vibration buffer | |
It is possible to reduce the transportation cost with using same container haulage which is called "Container Round Use".
We can realize the cost reduction for drayage , contribution to relieve traffic congestion in port and reduce the CO2 emissions.
BEFORE
AFTER
Can Save Cost!
Other Service
Transporation by our own trailer and truck
Long-Range transportation between Ho Chi Minh and Da Nang
Based on our experience of developing our business as a total logistics company in Vietnam for more than 10 years, we provide advice and support for customer's problem.
Based on our experience of developing our business as a total logistics company in Vietnam for more than 10 years, we provide advice and support for customer's problem.
Support for Market research of new companies, negotiation with customs
Solution sample
Customs checks and advice(FTA , EPA , C/O)tailored to the status of the company(EPE/FDI/Trading Company License)
Support for import/export and inventory management
Training of logistics staff, VNACCS input assistance